There's an old Yiddish saying which translates to: "You make plans...and God laughs." Well, it's not all that funny for many people right now but we will come through this and be dining once again in our favorite places!!! In the meantime, local restaurants are fighting for their lives! Not only will getting take out and delivery keep your family fat and happy, but it will help people in the meantime stay busy!
Things Covered on Atlanta Living 4.4.20
Check out The Meal Bridge initiatives supporting restaurants and hospital workers during this time. Founded by an Atlanta family to help the local restaurant and healthcare industries, The Meal Bridge connects participating hospitals open to accepting meal donations with local restaurants providing take-out meals. The public can order meals (here) from restaurants, including Hampton + Hudson, Nina & Rafi and more, to deliver to Hospitals, which simultaneously generates needed business for restaurants and feeds healthcare workers.
Tuesdays have become the official Great American Takeout Day. This Tuesday, 4/7 will be the third one! As part of its Shift4 Cares initiative created to put $200 Million back into local communities, Shift4 Payments is giving one winner $5,000 to be used at their favorite restaurants. Just post a picture of your takeout or delivery meal on Instagram or Twitter during The Great American Takeout on Tuesday, April 7, along with the hashtags #TheGreatAmericanTakeout and #Shift4Sweepstakes and you'll be entered for a chance to win! Shift4 Payments will also donate $1 to the Restaurant Employee Relief Fund (RERF)-up to $10,000-for every social media post that includes both hashtags on April 7.
Atlanta Food Bingo! Two talented Atlanta coders created an actual bingo game where you can play by ordering take out or delivery by 4/11. Play here!
Let My People Go! Passover Catering!The General Muir is sold out of Passover Meals but they have "matzoh ball soup forever." Also Goldbergs offers online ordering but hurry!
Meal Kits! Cook at home like the pros! Cook burgers with kits from Grindhouse Killer Burgers, Grub Burger or Farm Burger. If you want to cook some pro-caliber pasta at home pick up a kit from newcomer Grana which is now open in Piedmont Heights or the new Lyla Lila in midtown.
And Meat! Tried to find meat at the grocery store to no avail? Brazilian Steakhouse, Fogo de Chao which is selling prepared meals as well as cuts of meat to cook at home--free delivery for $50+ orders! And The Castelucci Group is doing a steak to go concept this weekend only! STK Atlanta - Offering STK Steakhouse @ Home Meal Kits including Dinner for 2 for $59.95 or Dinner for 4 for $99.95., available for call-in curbside pickup orders only. Guests can also receive $50 Dining Dollars with your $50 takeout order. Wine bottles available for to-go orders. Delivery is also available with Postmates and Uber Eats. For more information about takeout and delivery options, visit https://stksteakhouse.com/delivery/ or call  404-793-0144. Stay connected on Twitter and @eatstk #stkatlanta.
Castellucci Hospitality Group has also partnered with Emory & Piedmont Hospital to provide meals for their fearless frontline ICU & emergency room volunteers & medical teams. On each CHG restaurant's online ordering page, there is now an option to add "Meals for the Frontline" to your cart ($15 - the cost of one meal) to gift a meal to these teams. For every Frontline Meal purchased, CHG will match with a meal donation & will be dropping off all meals to both hospitals at the end of each week.
Speaking of looking for meat...what's going on with all the Chicken Wings! Easy--with March Madness canceled, the world is awash in chicken wings!
D Geller and Son Jewelers are doing things so you can buy some bling and support local restaurants! Get $30 for every $100 you spend!

Let's hear it for our local liquor distilleries who have shifted from making booze to making antibacterial soap!

Known for revolutionizing the "work lunch" for some of the nation's most influential teams, award-winning, Atlanta-based food tech startup Sifted is one of many businesses that have quickly switched gears to kick-off a new business model in response to the current pandemic. Founded with the mission to offer chef-driven lunches to corporate offices in major cities (currently serving Atlanta, Austin, Denver, San Francisco, Phoenix & Seattle), Sifted quickly leveraged existing resources to launch two new, complementary business models to better serve today's social norms: Sifted Provisions, a program now offering chef-driven Provision Packs of fresh & shelf-stable groceries (available for next day, contactless pick-up in your area) to help stock your kitchen for weeks so you can skip the grocery store, and Sifted Kitchen, another branch of the company set to offer a curated selection of hand-blended spices to amp up your lunch hour (launching this month).
Let's also remember good ole Waffle House--this is such a backbone to our local economy who typically anchor communities during disasters. Many locations are open for pick up so check the one near you and order some scattered, covered and smothered!
And finally, I want to say goodbye to a dear friend, Marti Schimmel, owner of Marti's at Midday in Athens. God speed to one of the most wonderful humans I have ever met.
Is it Safe to do Take-Out and Delivery!?
OK, first and foremost: Is it safe to take out/get delivery? YES! ...with some caution. This is a SUPER THOROUGH article from Serious Eats. It's long but it covers EVERYTHING. In short, there are no guarantees in life but it would be a moonshot for the virus to transmit through foodservice.

What's Open for Take-Out and Delivery?
The AJC has a very thorough list of open/closed restaurants.
Eater Atlanta has a great list of intown places open.
Buford Highway spots are open and will deliver! Check out this list from WeLoveBuHi!
How Do I Get Delivery?
If you don't have it, download these apps: OpenTable,Uber Eats,Door Dash,GrubHub,ZiftyorPostmates, these are amazing ways to see what's open, get deliveries AND support drivers.
Craving sweets?
Everyone, especially during these times, needs a little sugar to get the endorphins going and keep you sane! Check this list out.
And don't go without your favorite gourmet popsicles! King of Pops is delivering!
Save Our Servers!
WSB's Mark Arum started a great page where you can Go Fund Me a number of Atlanta's servers who are out of work and need your help. And the gallery of photos of some of these young lads and lasses, ahem, is quite entertaining as well!
This piece talks about how One in six restaurant workers live below the poverty line, according to the Economic Policy Institute, a nonpartisan think tank that studies low- and middle-income workers. Twice as many don't earn enough for their family to cover basic things like rent, food and healthcare. They need help fast!
Here is a
fund
from Guy Fieri and the National Restaurant Association to help restaurant employees.
Things covered on Atlanta Living on 3.28.20

Salt Factory Pub and Little Alley Steak in Roswell are combining kitchens that are offering limited menus to go. Salt Factory Pub in Woodstock is also still open for takeout (but their Alpharetta location is not).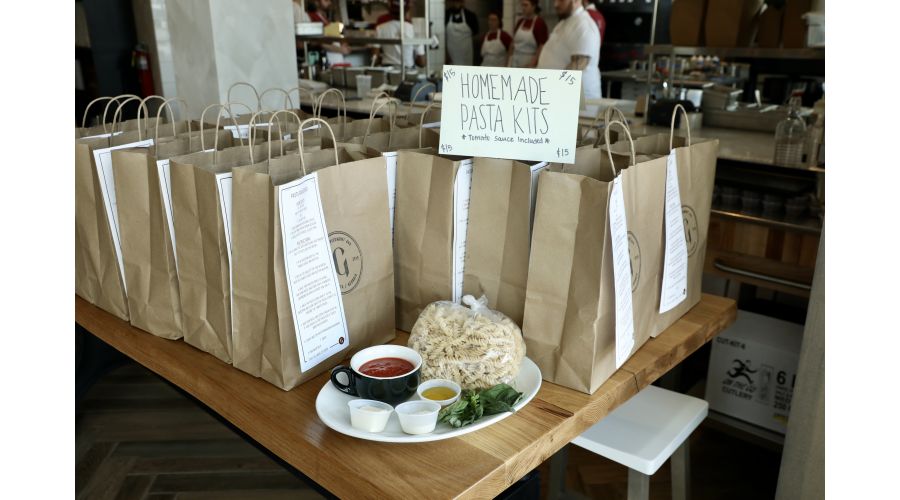 Order from Murphy's limited to-go menu, which includes a $45 dinner for four with sides and your choice of a whole roasted chicken, braised beef brisket, or spinach and sausage meatloaf. They're also providing family dinners to-go and wine to-go from 9 am-9 pm. Order through DoorDash or Zifty. Murphy's also recently launched a GoFundMe for those who want to support the restaurant's staff.
Goldberg's Fine Foods is offering takeout of Jewish penicillin at all of its locations along with free delivery when orders are placed on the restaurant chain's website. Goldberg's Fine Foods, Multiple locations. goldbergsfinefoods.com.
Eat healthy during quarantine with KarmaFarm is offering drive-thru service with vegan combo meals under $20, pickups available 11 a.m.-7 p.m. Monday-Saturday. KarmaFarm, 308 Pharr Rd NE, Atlanta. 404-307-7186, eatkarmafarm.com.
King of Pops is taking orders online for local delivery. King of Pops. 833-328-7677, kingofpops.com.
Lyla Lila will remain open and will also begin selling Pasta To-Go packages, cook-at-home meal kits made to serve four people. Each kit includes a pasta dish and salad, with additional daily specials available. Orders can be placed over the phone for curbside pickup. Lyla Lila, 693 Peachtree St NE, Atlanta. 404-963-2637, lylalilaatl.com.
Brick Store Pub will be open for a quasi-soup kitchen style, curbside service from noon until 8:00 p.m. We will be offering soup and sandwiches for donations only. If you can offer a donation, great! If you cannot, we'll still get you a meal. All donations, 100%, will be given to staff as we try to continue to support our people as best we can at this time. This is for people who are food insecure, worried about their next paycheck, and really need a break right now. Menu coming ASAP. Thanks and please be safe: ]
If you're feeling fancy, Kimball House has a home oyster pack that comes with a dozen oysters, a Toadfish oyster knife, fresh lemon, cocktail sauce, and a mini oyster cooler all for $55. They're also offering cocktails to-go and a curbside takeout menu with specials including confit duck leg, flank steak, cornmeal-crusted trout, and even caviar.
Antico Pizza is offering their world-famous pies shipped frozen to you! They last for 60 days. Link is here!
Bell Street Burritos is offering a host of special programs at all three of its locations, including selling tamales every day, beer-to-go, a retail market, free toilet paper with every $20 spent and, of course, curbside takeout service. Bell Street Burritos, Multiple locations. bellstreetburritos.com.
DAS BBQ will be closing its dining room and offering takeout with curbside pickup Wednesday-Sunday, 12-7 p.m. The restaurant will also be sending its vans and trucks to serve neighboring communities in public spaces, the schedule for which can be found on its website. DAS BBQ, 1203 Collier Rd NW, Atlanta. 404-850-7373, dasbbq.com.
Grindhouse Killer Burgers now offers delivery via DoorDash, as well as discounts for medical workers with their hospital badge or other medical ID. Grindhouse Killer Burgers, Multiple locations. grindhouseburgers.com.
Gypsy Kitchen is offering takeout with curbside pickup and delivery available, including bottles of wine. Restaurant industry workers get 50% off all orders. Gypsy Kitchen, 3035 Peachtree Rd NE, Atlanta. 404-939-9840, gk-atl.com.
Feeling Fancy?
Aria and Umi have pivoted to be more about comfort food.
Tamarind Restaurant Group is offering a 3-course family meal. We have taken many of your favorite dishes from Tuk Tuk Thai Food Loft, Nan Thai Fine Dining and Chai Yo Modern Thai and have made them available as a family meal option available for curbside pickup and delivery. Each family meal serves 5-6 people. Choose one appetizer, one soup or salad and two entrees for only $80. Call 678-539-6181 to schedule an order for pickup at Tuk Tuk Thai Food Loft . Delivery is also available to Midtown and Buckhead neighborhoods for a fee. We request 2 hours advanced notice for deliveries. For any questions contact info@tuktukatl.com or call 678-539-6181
Arnette's Chop Shop will offer a four-course takeout menu for $60 per person or $220 for a family of four.
Bar Margot in the Four Seasons Hotel is offering takeout with pickup and delivery available until 9 p.m. each day, with different daily family meal menus for sale as well.
Le Colonial is now offering delivery via UberEats as well as takeout orders. Le Colonial Atlanta, 3035 Peachtree Rd. NE, Atlanta. 404-341-0500, lecolonialatlanta.com.
Colletta is now offering curbside pickup of takeout orders. Colletta, 900 3rd St, Alpharetta. 678-722-8335, collettarestaurant.com.
Fogo de Chao is offering full meals-to-go as well as its Bar Fogo menu for takeout ordering with curbside pickup available. The Brazilian steakhouse is also selling fresh meat by the pound. Fogo de Chao, Two locations: Buckhead and Dunwoody. fogodechao.com.
La Grotta is offering takeout with curbside pickup, including wine, which is discounted 40% on bottles under $200. La Grotta Ristorante, 2637 Peachtree Rd, Atlanta. 404-231-1368, lagrottaatlanta.com.
Drive Thru's
Gusto Chamblee The fast-casual healthy-ish joint has a drive-thru location in Chamblee. It's efficient and easy to access off of Peachtree Boulevard. Right now, the regular menu is available as well as pints of chicken (2 for $15). Make sure to order the sweet potato chips fresh from the fryer.
Martin's in Mableton: there are 16 Martin's locations throughout the Atlanta area, which is great for those looking for an affordable biscuit. There are other comforting offerings here, too, including hot dogs with a variety of toppings and burgers.
Banshee has a new drive-thru menu available from 5-8pm. You can get comfort food such as chicken noodle soup, grilled cheese, bone broth, gnocchi, and more. They're also offering to-go cocktails, including mimosa kits.
Great Stories from the Restaurant World!
Check out how a New Orleans restaurant group pivoted to healthcare, saving jobs, serving rising needs.

And here is a great story about how The Staplehouse is now operating as a soup kitchen for restaurant employees affected by the virus:https://whatnowatlanta.com/staplehouse-now-operating-as-soup-kitchen-to-support-local-restaurant-workforce/

Gusto! has now raised $40,000 in dining bonds for their employees! https://www.bizjournals.com/atlanta/news/2020/03/24/dining-bonds-coronavirus-atlanta-restaurants.html
Noble Prize nominee Chef Jose Andres is doing amazing things around Covid 19 (like he always does!).
Tropical Smoothie is donating 100,000 smoothies to frontline workers.
The Slutty Vegan is donating meals to Frontline workers.