How does one describe Sugar Factory? Well let's see: if Willy Wonka, Kim Kardashian and Guy Fieri-the three of them-could somehow biologically create a child in a lab, this would be that kid. Sugar Factory is an over-the-top, wow-factor, larger-than-life, sensory overload restaurant for the Instagram generation. OMG. WTF. And SMH. And we just got our own right here in midtown Atlanta.
Sugar Factory American Brasserie (as it is properly known) sits as a two-story, 8,000-square-foot restaurant with full-service café and confectionary shop; retail store; indoor and outdoor dining areas; two full-service (alcohol) bars and a private dining room.Dance music booms from the speakers and photos of Kardashians and other celebrities, all sitting in front of massive cocktails billowing dry ice smoke and sparklers, adorn the walls. Indeed, this place is quite the spectacle.
Let's unpack one thing at a time: first, there is the 800-square-foot candy store with 500 types of sweets, including a selection of novelty and bulk candy like the brand's world-famous Couture Pops. There are note one but 2 wall murals (one with faux white roses, the other with gobstopper-looking colorful dots) for you and your besties to take Instagram shots. In the same space, a café of sorts offers oversized mugs of fancy coffees with whipped creams, hot chocolates, frozen hot chocolates, rainbow doughnuts and other pastries, as well as a jaw-dropping display of homemade ice cream and sorbets.
Then the dining room.The decor probably could be best described as tacky-chic; you sit red tufted banquets beneath iridescent crystal chandeliers and order off what can only be described as a surreal menu. Crepes, salads, "monster" burgers, "insane" milkshakes and specialty pizzas are the names of the game but these are not as nature intended them to be. They are all whimsical mutations, each one seemingly more eyebrow-raising than the next. One item, the Rainbow Sliders, are the Skittles of burgers-neon, rainbow-colored buns wrap around the ground beef and cheese and, like a great joke, turn your mouth different colors (I am not making that up). The "insane" milkshakes are a study in physics and biology, served in towering, foot-tall chocolate-dipped mugs, including unholy (but delicious) combinations of mind-bending ingredients like red, blue, green and yellow-white chocolate ganache, Pop Rocks, cotton candy, bacon and even a slider burger. It's an alarming amalgamation of some of the highest caloric foods on the planet crammed into a glass...but golly it sure is a lot of fun! Of course, if you really want to swing for the fences just order up the King Kong Sundae, serving up to 12 people with 24 scoops of ice cream covered with sprinkles, gummy bears, caramel sauce, fudge sauce and giant swirly pops, to name a few.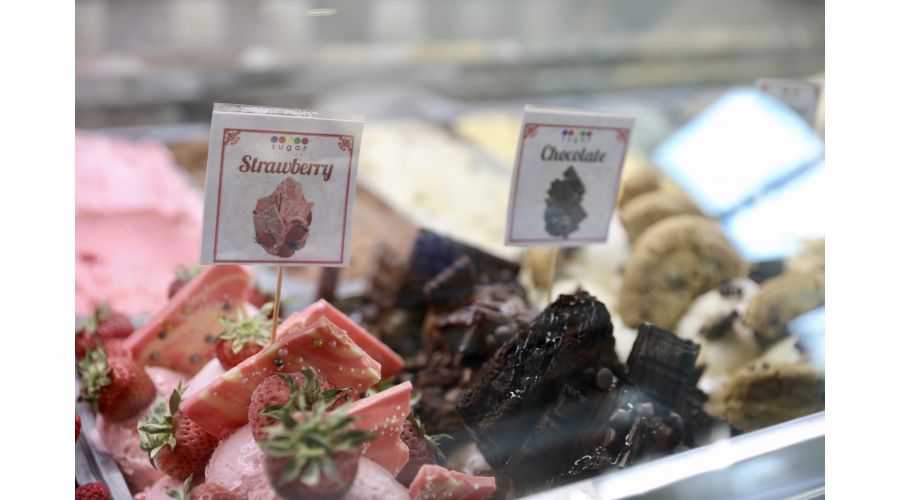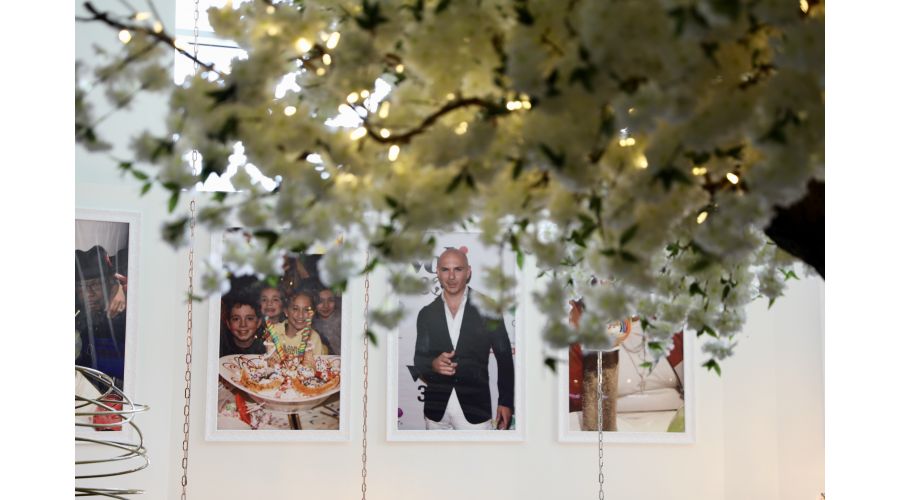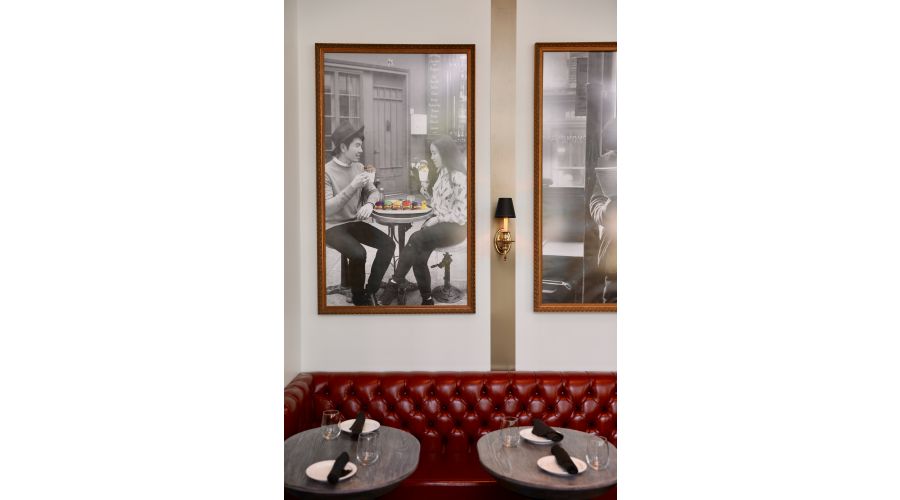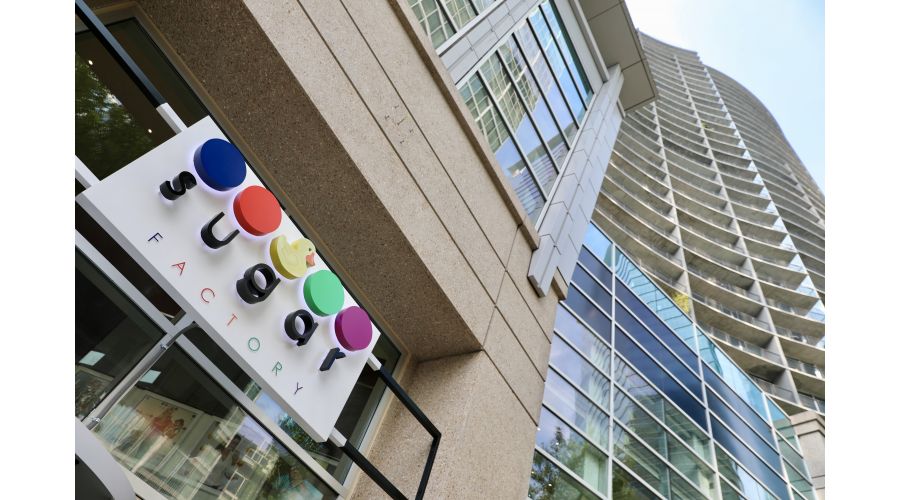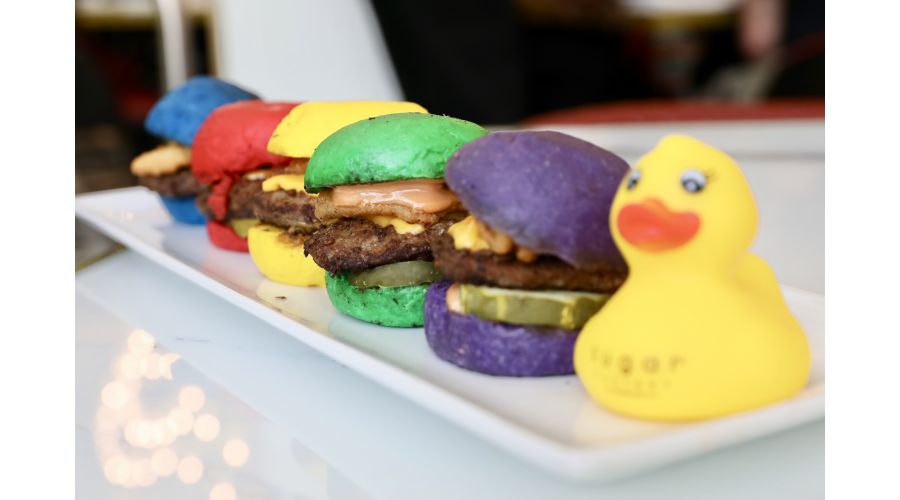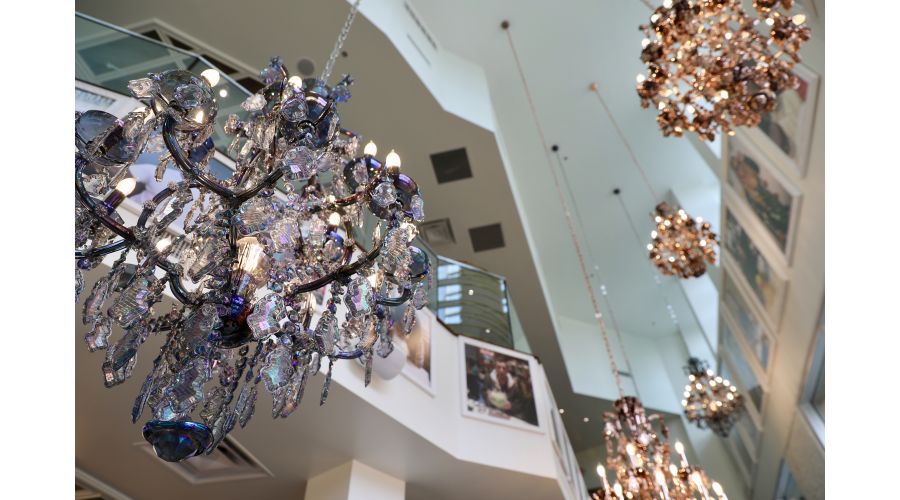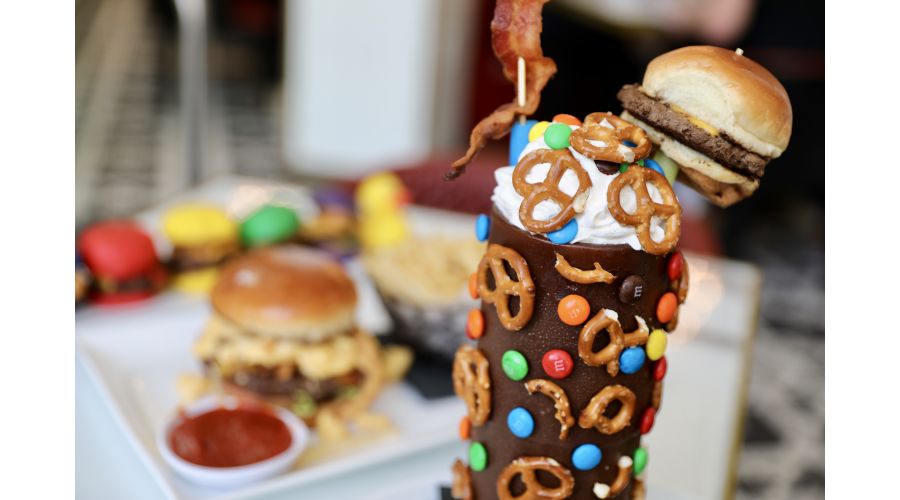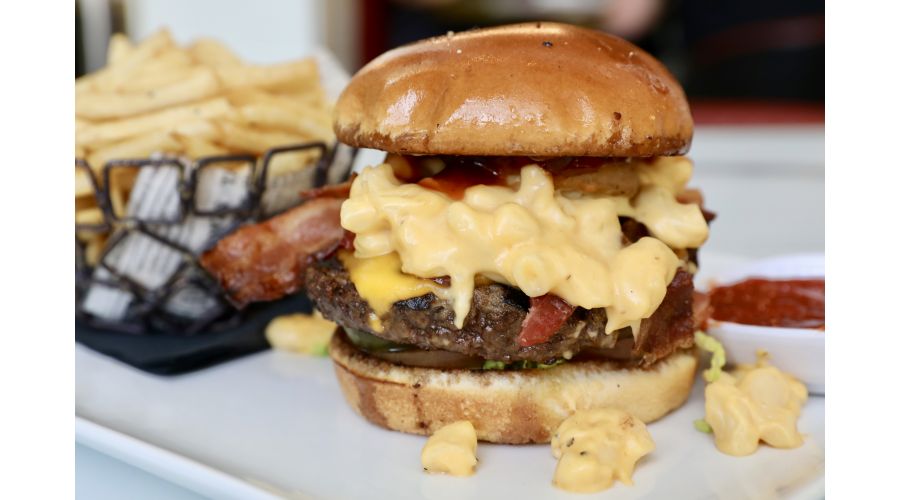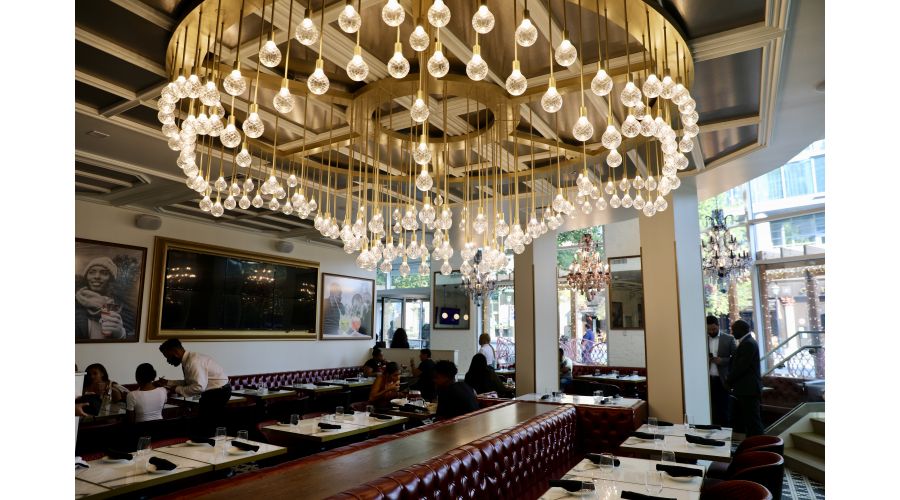 There is also plenty of alcohol starting with Sugar Factory's signature 64 oz. alcohol-infused smoking candy goblets that come smoking from dry ice. There's the Lollipop Passion, garnished with lollipops and candy necklaces; the Watermelon Mojito featuring Pitbull's Voli 305 Vodka and sour watermelon gummies; and the Night Owl combining Virginia Black Whiskey, mint-infused lemonade and candy finish of night owl lollipops.
So, yes, this is a restaurant not for the culturally timid or shy and serious foodies will sneer at its shameless novelty. But it's a place you want to come and let your freak flag fly and post as many pictures as you can on social media. Kids, families, girls nights out or wannabe celebs, this is your jam! Just, please, only 3 selfies per customer.
Sugar Factory Atlanta is located 1080 Peachtree Street across from the Loews Hotel. Sugar Factory American Brasserie is open daily: Sunday - Thursday 11 a.m. - 11 p.m., Friday - Saturday 11 a.m. - 2 a.m, serving breakfast, lunch, and dinner. Weekend brunch available on Saturdays and Sundays 11 a.m. - 4 p.m. Reservations and large-group bookings are available by calling 470.428.4395 or through OpenTable.com.