All Hail Chef Kevin Rathbun!
To say that Kevin Rathbun is star chef in Atlanta's constellation is an understatement.  Chef Rathbun is a culinary star beyond our city--he is an Iron Chef winner who has influenced chefs all over the world!  Here are a couple of great opportunities to experience his genius:
Krog Bar Pig and Paella Birthday Party
Sunday, October 14, 2018.  There will be plenty of Paella, whole roasted pig, wine, beer, and Spanish desserts.  Music provided by Atlanta Flamenco.  Tickets for this party are limited, so the best time to purchase them is now!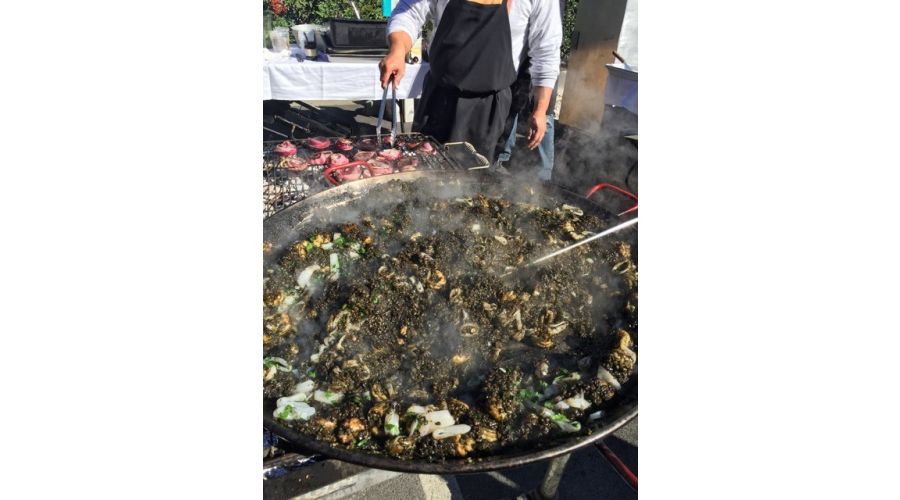 Tickets are all inclusive at $75.00 + $3 processing fee
Kevin Rathbun's Cooking Classes
And if you would like to learn from the Jedi Master, you must take a class!  Get your tickets here. 

2019 Cooking Class Schedule held on
Monday's at Rathbun's Restaurant.

German Cuisine - Monday, January 14th, 2019
New Orleans Style - Monday, March 11th, 2019
Mexican Street Food - Monday, May 20th, 2019
Farm to Table Cuisine - Monday, July 15th, 2019
Big Green Egg BBQ - Monday, September 16th, 2019
Holiday Foods - Monday, November 18th, 2019

All classes are sold on a first come first serve basis and are paid for at the
time of purchase.  There are seventeen spots for each cooking class
and there are six different classes.

WHAT IT COSTS
Cost is $400.00 per person per class. (Plus a Paypal convenience fee of $20.00) They are non-refundable - If you cancel your class, you will have the gift card available to be used at the restaurant for food and beverage purchases.  The card cannot be carried over to a different class or the next year.  

The class includes 1 person in a class, a four-course meal on the night of the class (with other classmates)  wine pairings, one guest for dinner, and a complimentary logo item.   Due to the high demand of these classes, payment is done in advance and you will receive a gift card in the amount of the class. They are non-refundable.  The gift card will have to be presented on the day of the class.  It is considered your ticket, so place it in a safe place. 

*We try our hardest not to change the class dates, however, it may happen. 
*Chef Kevin's schedule subject to change and may not be in attendance 

Here's How It Works
Rathbun's interactive cooking class takes you to the heart of the kitchen.  Feel the passion, feel the heat, and get ready to experience the reality of the cooking. We don't makeup recipes.  We don't have rules...We begin from scratch and we decide on the dishes upon your arrival. 

Upon arrival, we look in the walk-in and decide what is available and begin creating the dish with the cooking theme in mind. For three hours, you prepare the ingredients and get ready to make the dish. 

You're in the kitchen, not in the seat... We provide the excitement, the knowledge and the fun inside of the kitchen. You learn about the food, the fun and what drives the kitchen to be the best. Passion from the heart!

How it works: Four teams of three to five people create their dishes from scratch.  Each team will then prepare their dinner and then sit down to enjoy their dishes. Classes begin at 4:00 pm and go to 9:30 pm.  The class participant arrives at 4:00.  At 7:00 pm, your guest arrives and you begin serving them appetizers and beverages.  Dinner then begins at 7:30 pm and ends at around 9:30 pm 

WHAT TO WEAR
Non slip shoes along with long pants, hair tied back, and casual clothing.  If you wish, you can bring a change of clothing for the dinner, but it is not necessary.  No open toed shoes, please. We will email and confirm all class participants on the first week of the month of the specific class.